MADE IN GERMANY
CANNABIS CULTIVATION & PROCESSING TECHNOLOGY
AUTOMATED HIGH PRECISION
EINS: THE SOFTWARE CONTROLLED MICRO-PLANTATION
SMART
COMFORTABLE
SCALABLE
STANDARDIZED
Programmable cultivation recipes enable fast empirical learning
Software controlling via PC or
tablet reduces human labor by 75%
Stackable plug & play units
for industrial plantations
Logged data & reproducible results create the worlds biggest comparable cultivation data base
EFFECTIVE
EFFICIENT
SAFE
PRECISE
Factor 2.6 more yield
Saves - 45% costs
Clean, Isolated atmosphere
15 sensors create an ultra stabile climate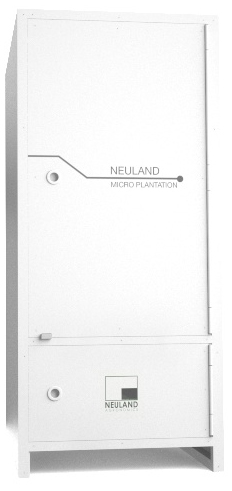 LED technology combined with high pressure aeroponics provide factor 2.6 more harvest and 30% more scientific results per year through shorter cycles and denser planting. We offer one of the most powerful cultivation systems currently available.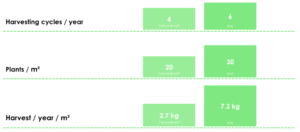 EINS reduces production costs by up to 45% * and increases the efficiency value to 1,2 gram per watt. Human maintenance is reduced by 75%* through software controlled cultivation. (not included in calculation)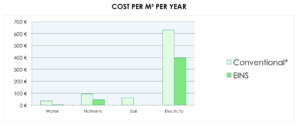 The isolated clean room units and soil free aeroponic system minimize the danger of pests or mildew. An integrated HD-Cam enables a non-invasive research and minimized risk of human error in industrial cultivation.
Isolated, clean root and canopy compartment
UV-Air-Inflow-Cleaning system
Integrated HD cam enables non-invasive cultivation & research
Constant overpressure keeps microbes and mildew outside
Electric redundancy security system for case of power cuts
Opening regulation & documentation via software
Alarms are send via email when values surpass set limits
Faulty operation in running cultivation cycles minimized
Software user rights define proper access to recorded data
Our plantations create precisely adjustable microclimates and nutrition dosing. Standardized specs and controllable conditions guarantee reproducible results even after years and a stabile content of active substances in the cultivated plants.
SENSORS
CONTROLS

Real time bio mass weighing
Light intensity & wave length
Temperature (canopy compartment, nutrient fluid, outside)
CO2
Humidity
Air pressure
Plant temperature heat map
Plant height measurement
Available fluid in tank
HD Camera

Temperature
Air (de-)&humidification
CO2 concentration
Light wave length, intensity, durance
aeroponic irrigation intervals
Air-Inflow UV cleaning
Ventilation

Column 1 Value
Each unit is a one m² standalone, automated micro plantation that reduces human labor by up to 75%**. Even huge industrial plantation cluster can be managed with a few clicks.
One person can easily manage a cluster of 280 units
Software controlled from PC or mobile devices
Pre-programmed cultivation recipes control all parameters
Automated data documentation of cultivation
Clean and easy harvesting without soil waste (aeroponics)
Smart cycle planning to avoid work load peaks
Isolated units within one crop area enable multiple cultivation optimizations or research tests at the same time. The sensors generate extensive data to learn fast. Conventional production delivers 1 result per 40m². EINS delivers 40 results under the same conditions.
15 Sensors per micro plantation
Precisely programmable & easy re-usable cultivation recipes
Integrate genetic information of plants (strain, mother, etc.)
Link data of chemical analysis to track results
Visual data analysis across hundreds of units and cycles
Simple CSV & XML-Export of data
Customizable API to connect to 3rd party software
Cloud data logging and documentation
EINS units turn high rack warehouses into multi level high tech plantations.
plug & play units
Stackable
Basic dimension of standard pallet
Fork-lift compatible
Successful cultivation recipes can be scaled from one single micro plantation to hundreds with a few clicks
Automated micro climate solutions are important for each step of the professional cannabis production. In 2018 we will develop additional modules to provide specialized entities for each phase of the process. Combined as CLUSTER 40 modules form a plug & play high precision cannabis production plant.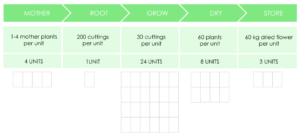 Standardized product specs and precisely controllable conditions guarantee reproducible and comparable data. All data can be shared in our CANNABIS CULTIVATION CLOUD (CCC) to build the most elaborate, comparable cannabis cultivation data pool in history. meets shared knowledge. Shared knowledge benefits the overall product & will change the future medical cannabis production & research.
Build to meet the German quality standard for medical cannabis cultivation
Plug & Play standardized units
Cultivation recipes can be saved and shared
Seamless cooperation with research external partners, who can cultivate at exactly the same conditions
We think, cannabis holds important answers to current medical and economic challenges.
Innovative cultivation and processing technology for scalable industrial production and precise scientific research will be essential to uncover the full potential of the plant.
Please don't hesitate to contact us. We're looking forward to get in touch with you!